Hardwood Flooring in Vernal, UT
Add timeless elegance and character to your home with our stunning hardwood flooring. At Basin Appliance, we stock a wide variety of hardwood flooring from trusted brands  such as Shaw, Fluent, Mannington and more. Choose from our various grains, colors and styles and turn your dream home into a reality.
Browse our various species of hardwood floors for more ideas.
Solid vs. Engineered Hardwood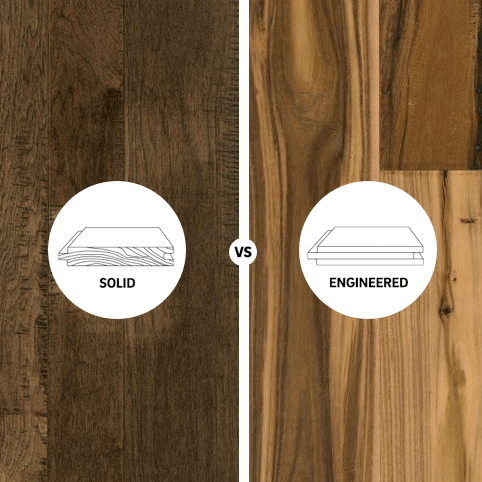 What's the difference? Solid hardwood is the traditional version of hardwood flooring. It consists of planks made from a single, solid piece of real wood. Engineered hardwood, on the other hand, is a layered wood floor made from thin slices of hardwood layered on top of another piece of high-quality wood composite such as plywood. Engineered wood is often more cost effective and versatile – and can often be installed on any grade, even in basements.
The durability of your hardwood is determined largely by the thickness of each plank. In addition, other factors include the wear layer and finish.
Standard hardwood planks come in a few different thicknesses. A ½-inch or 3/8-inch thickness is common for engineered hardwood planks, for instance. Solid hardwood floors, on the other hand, are much thicker – often ¾-inch with an added wear layer. This wear layer allows for additional refinishing. This is a selling point of solid hardwood over engineered. Engineered wood can often be sanded, but likely only a single treatment over its lifespan.
Hardwood Styles
There are many different hardwood styles and textures to choose from. Hover over each image to learn more about some of our popular looks. 
Hand Scraped

Hand scraped hardwood provides a warm, soft look that adds comfort and style to any home or business. When applied to both engineered & solid hardwood floors, the hand scraped look provides an age-old feel. 
Distressed

Each plank is not only intentionally distressed, but artistically created to simulate the marks left behind by age and wear. The distressed look of hardwood floors achieves the balance of both the modern styles of today and the antiqued appearance of yesterday. 
Wire Brushed

Wire brushed engineered and solid hardwood floors provide a textured yet smooth look to your surface. Wire brushes glide across each plank pulling the soft grains up into the wood's surface, providing softness and comfort underfoot.
Smooth

Smooth hardwood floors provide a traditional look and feel to any home or business. This warm look can come in a low, medium, or high-gloss finish to achieve the desired look you want. Smooth hardwood floors can provide elegance and charm to suit all your design needs.
FAQs of Hardwood Flooring
Still looking for more info about hardwood flooring? Here are some of the hardwood questions we get asked most often by our customers here at Basin Appliance Center.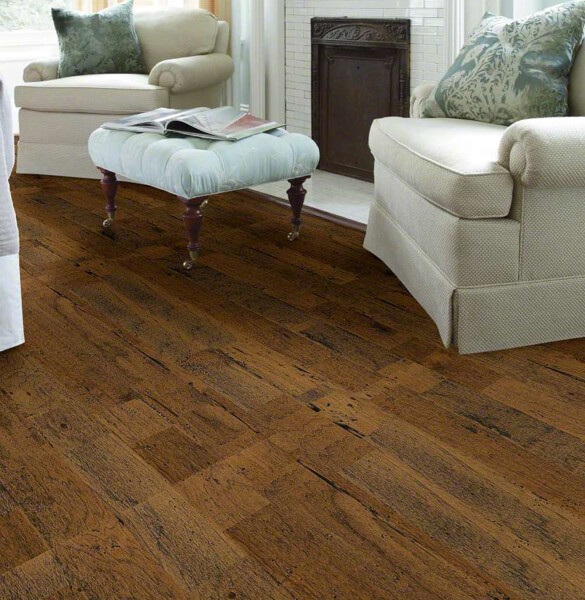 Features & Benefits Hardwood
Hardwood flooring has a lot of things going for it when it comes to versatility and durability. Since they come in various natural grains, hardwood floors match almost any decor or color scheme you may already have. As hardwood floors wear, their unique characteristics become more prominent over time.
They are perfect for colder rooms as they retain heat better than other flooring alternatives. They improve indoor air quality and are very quick and easy to clean. Hardwood flooring is also great for smaller spaces because they make the room look bigger.