Transform the look of an entire room with our beautiful range of laminate flooring. We offer laminate flooring in various colors, finishes and textiles to choose from. Our laminate flooring products are stylish and affordable.
Browse our laminate flooring collection from Shaw Floors and more.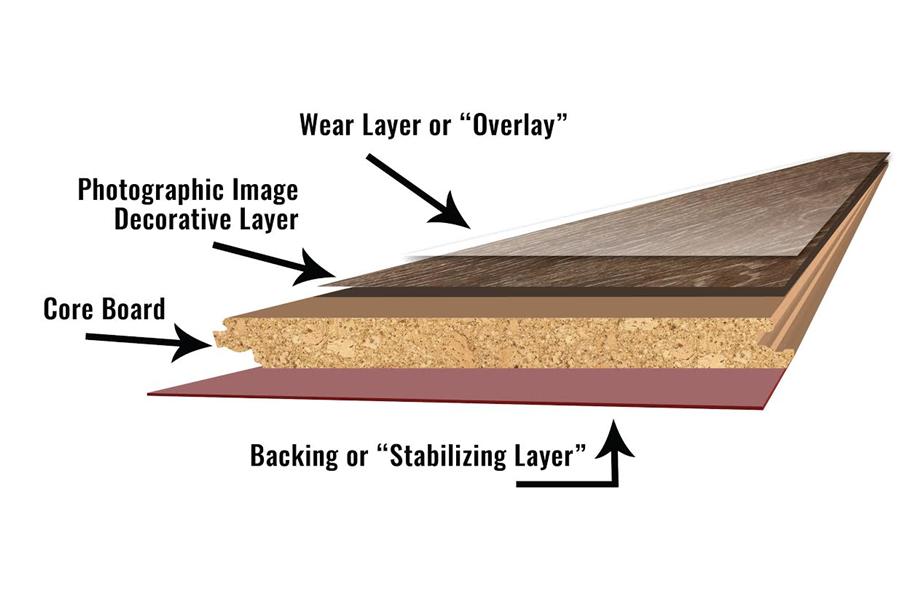 On the bottom, a backing layer for balance and sealing away of moisture. This layer can be a built-in underlayment substitute.
Next, the bulk of laminate is a core layer made of high-density material that gives the tile or plank its strength and stability.
Third from the bottom is a decorative, high-quality photographic design layer. This can be a print of any flooring material, including hardwood, stone or ceramic tile.
Finally, the top wear layer protects the printed layer from wear, scratching, UV damage and staining.
Laminate Styles
With so many different laminate looks and styles to choose from, the possibilities are endless. Hover over the images to learn more.
Hand Scraped Laminate

The textured look is brought to the surface using precise techniques and specified patterns that mimic the look of real hardwood planks. The etchings made from every precision provide a realistic touch and feel that are indistinguishable to its counterpart's natural materials.
Speciality Wood Look

Laminate flooring made to resemble the look of exotic wood species found around the world. This look provides an alternative option to any size budget while giving your room the true craftsmanship and style of real hardwood floors.
Traditional Wood

Laminate flooring is brought to life with the traditional wood look. Traditionally designed laminate flooring provides the classic style of hardwood floors with the ease of care and maintenance that both home and business owners have come to expect.
Natural Stone & Tile Look

Tile is brought to life through laminate flooring. Made to resemble the natural materials of real stone, these floors stand up to an active lifestyle. Photographic images on the outer layer create a realistic tile look that holds up to heavy traffic underfoot.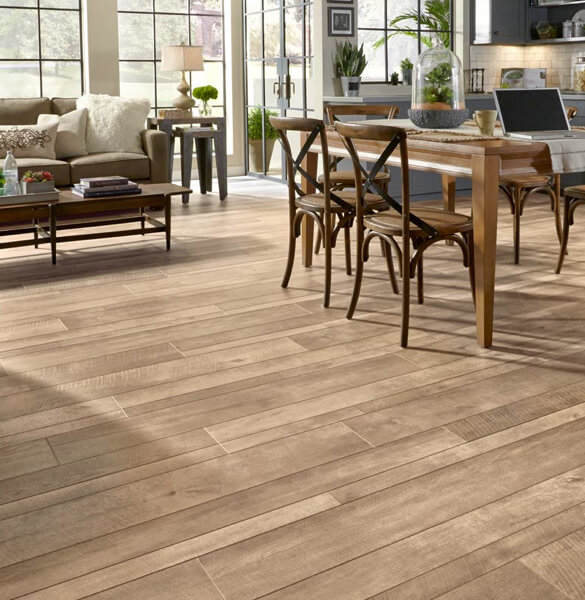 What's the difference between laminate flooring and hardwood flooring?
Because of its incredible natural beauty and durability, hardwood flooring is a highly sought-after look. To capture that desire for natural beauty, newer homes are being constructed using laminate flooring, a more affordable solution with more versatility and options for style. While the two types of flooring look and act identical in many ways, laminate incorporates many layers of different durable materials that only mimic natural wood.
FAQs About Laminate Flooring
Still looking for more info about laminate flooring? Here are some of the laminate questions
we get asked most often by our customers here at Basin Appliance Center: